Tianna's Light A Candle Fundraising Page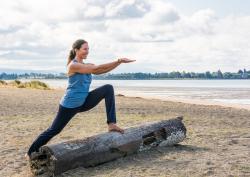 Greetings! You probably know I'm a Yoga Therapist and a Physio. But did you know I support Veterans Yoga Project (VYP)? I'm a VYP Alliance Member.
Here are the ways I support VYP:
Substitute teach veterans yoga classes at the Oakland Veteran Center
Teaching Livestream Yoga on the VYP Facebook page during Shelter In Place
Donate yoga classes & money via the VYP Gratitude Week that happens in November
Donate time & presence to in-person VYP events
And this year, Fundraising for Light A Candle event in honor of Memorial Day
Since many Memorial Day in-person events are cancelled this year, I'm hoping you'll join me this year in supporting Veterans across the world by participating in this online event.
I can't say enough positive things about this organization. Particularly during this time, we need to support those most vulnerable. If VYP does not survive through this, then many of their programs will no longer be available to those Veterans in need of these valuable resilience building services.
Will you join me in your support?
With Gratitude,
Tianna
ABOUT Light a Candle 2020
As Memorial Day approaches, it is time to pause, take a breath and consider the true meaning of this holiday. Memorial Day is to remember those Americans who made the ultimate sacrifice for our country. We recognize their service which led to the freedoms that we all enjoy today.

The ritual of lighting a candle in remembrance of a life passed has long been a part of our culture. Keeping a light burning acknowledges that the memory still lives on and burns bright in our hearts. It is a ritual that promotes reflection and signifies a perpetual remembrance.
We would like to invite you to participate in Light A Candle, by making a dedication to honor those who have served. This year we are partnering with gratefulness.org to bring our community a unique experience of being able to light a virtual candle for their personal intention.
Your gift will go directly to support recovery and resilience among our veterans, families, and communities. These programs include more than 350 free Mindful Resilience yoga classes each month, 3.5 hours of live online practices each day during the COVID crisis, 200-hour yoga teacher training for veterans and active-duty, and our new online Mindful Resilience for Compassion Fatigue e-course.
Thank you for honoring and/or praying for those you love, remember, or grieve through "Light-A-Candle."
Supporters
Name
Date
Amount
Comments
Marilyn M Rabello
06/16/2020
$50.00
Tianna J Meriage-Reiter
05/25/2020
$103.30
Donating on behalf of my yoga students that attended class today in honor of Memorial Day
Tianna J Meriage-Reiter
05/24/2020
$103.30
Veterans Yoga Project is the real deal. Making meaningful change in the lives of so many vets and active duty members around the world.
Total
$256.60
Report Abuse
Edit My Page