Brianna D Renner's Fundraising Page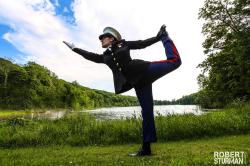 My mom always taught me that numbers never change. They are steadfast and true. Which is probably why I grew up loving numbers, their meaning, and what they represent. This year, I turn 40. BIG number. In honor of my birthday, I kindly ask that you consider a donation in support of the Veterans Yoga Project. I am humbled and honored to be a part of this beautiful organization dedicated to supporting recovery and resiliency among our veterans, families, and communities. I know times are so hard, but, if you are able, it would mean so much to me if you could donate:
$20 - in memory of the service members who take their own lives every day
$24 - in honor of the years ago in which I signed to join the Marine Corps... yes, on my 16th birthday!
$40 - in honor of the years I have graced this world with my presence
ABOUT Light a Candle 2020
As Memorial Day approaches, it is time to pause, take a breath and consider the true meaning of this holiday. Memorial Day is to remember those Americans who made the ultimate sacrifice for our country. We recognize their service which led to the freedoms that we all enjoy today.

The ritual of lighting a candle in remembrance of a life passed has long been a part of our culture. Keeping a light burning acknowledges that the memory still lives on and burns bright in our hearts. It is a ritual that promotes reflection and signifies a perpetual remembrance.
We would like to invite you to participate in Light A Candle, by making a dedication to honor those who have served. This year we are partnering with gratefulness.org to bring our community a unique experience of being able to light a virtual candle for their personal intention.
Your gift will go directly to support recovery and resilience among our veterans, families, and communities. These programs include more than 350 free Mindful Resilience yoga classes each month, 3.5 hours of live online practices each day during the COVID crisis, 200-hour yoga teacher training for veterans and active-duty, and our new online Mindful Resilience for Compassion Fatigue e-course.
Thank you for honoring and/or praying for those you love, remember, or grieve through "Light-A-Candle."
Supporters
Name
Date
Amount
Comments
Sandra Williamson
05/13/2020
$103.30
Happy Birthday, Brianna. Thank you!!!!! Love from Sandy and Mike
Jenny Power
05/12/2020
$103.30
You keep talking the talk and walking the walk. Love you. Mom
Jolene Carter
05/12/2020
$25.00
In memory of my Uncle David, AF Colonel and AF Historian
Walter Renner
05/12/2020
$40.00
Kristi Wright
05/12/2020
$40.00
Because we love you!!
Total
$311.60
Report Abuse
Edit My Page