Christina Howe's Fundraising Page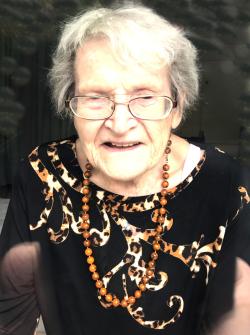 This year marks the 75th Anniversary of VE Day. If you don't know, VE day is "Victory in Europe" day. 75 years ago this May, the Allies of WWII accepted Nazi Germany's unconditional surrender. It was because of this, that this beautiful woman that you see here to the right became free. Free from multiple years in a German Labor Camp. Free to come to the United States. Free to pursue happiness.
It is because of the men and women who fought in our military that my aunt was able to be free. It's because of men like my dad, a WWII US Navy Veteran and my uncle, WWII Army Veteran, that my family came to be. My aunt and uncle came to the United States to build a life. Her sister - my mother - soon followed. Here, my mom met my dad and well... the rest is history as they would say! My mom and dad have since passed, but my aunt is now 99 and going strong. She is Covid-positive, yet remains a shining light for me on how 'life isn't what happens to us, it's how we react."
This Memorial Day, I am raising money in support of Veterans Yoga Project. This is dedicated to my dad an my uncle. Thank you! Thank you for freeing my aunt. Thank you for touching the many lives who became free because of your sacrifice and willingness to fight for freedom.
Love you and miss you both!
ABOUT Light a Candle 2020
As Memorial Day approaches, it is time to pause, take a breath and consider the true meaning of this holiday. Memorial Day is to remember those Americans who made the ultimate sacrifice for our country. We recognize their service which led to the freedoms that we all enjoy today.

The ritual of lighting a candle in remembrance of a life passed has long been a part of our culture. Keeping a light burning acknowledges that the memory still lives on and burns bright in our hearts. It is a ritual that promotes reflection and signifies a perpetual remembrance.
We would like to invite you to participate in Light A Candle, by making a dedication to honor those who have served. This year we are partnering with gratefulness.org to bring our community a unique experience of being able to light a virtual candle for their personal intention.
Your gift will go directly to support recovery and resilience among our veterans, families, and communities. These programs include more than 350 free Mindful Resilience yoga classes each month, 3.5 hours of live online practices each day during the COVID crisis, 200-hour yoga teacher training for veterans and active-duty, and our new online Mindful Resilience for Compassion Fatigue e-course.
Thank you for honoring and/or praying for those you love, remember, or grieve through "Light-A-Candle."
Supporters
Name
Date
Amount
Comments
Jane Nolan
05/23/2020
$51.80
Linda Lodi
05/22/2020
$51.80
Abby Alfrod
05/19/2020
$51.80
Lots of love, Lee, Abby, Madeleine & Jackie
Edward Wiktor
05/17/2020
$51.80
Barbara Hopkinson
05/15/2020
$26.06
Christina Howe
05/08/2020
$10.72
Total
$243.98
Report Abuse
Edit My Page